Literature Ireland 2022 Literary Translation Workshops
Literature Ireland Literary Translation Workshops for Bulgarian, French, Polish and Spanish Translators of Irish Literature
Literature Ireland is pleased to announce its second series of literary translation workshops, which aim to help practising and aspiring translators of Irish literature to fine-tune their skills through a series of classes with expert tutors and practitioners. The workshops will be run remotely over Zoom in the week of 4 July 2022 and are open to literary translators and postgraduate students of literary translation.
In 2022, courses will be offered in four languages: Bulgarian, French, Polish and Spanish. The workshops will offer 20 hours of intensive literary translation training by expert tutors and practitioners and will focus primarily on fiction, poetry and non-fiction. There will also be a guest lecture on contemporary Irish literature and culture.
2022 Faculty

| | |
| --- | --- |
| Bulgarian | Mirela Hristova and Iglika Vassileva |
| French | Marie Hermet and Clíona Ní Ríordáin |
| Polish | Michał Lachman and Aga Zano |
| Spanish | Jorge Fondebrider and Matías Battistón |
How to Apply
Places are limited to 12 per workshop. The full cost of the programme is €185. There is a discounted rate of €125 for students (proof of student status will be requested). There are also a limited number of full bursaries available on each course which will cover the course fee. These will be awarded on a competitive basis. Should you wish to be considered for a bursary, please state so in your letter of application.
For the Polish workshop, applications are open until Tuesday 28th June; for all other languages please inquire. To apply, send a CV and cover letter to workshops@literatureireland.com .
The decision of the course director, Sinéad Mac Aodha, and of the Board of Literature Ireland regarding the allocation of places will be final.
For further information, please email workshops@literatureireland.com.
Feedback on 2021 Workshops
Literature Ireland ran its inaugural series of LiteraryS Translation Workshops in 2021 and sent a survey to the participants of the courses in French, German, Italian and Spanish. 100% of respondents said they would recommend the course to a friend and 100% expressed a wish to attend a similar course in future. The suitability and quality of the content were overwhelmingly voted 'excellent' and the vast majority of respondents reported being 'very satisfied' with the experience. This positive feedback from students, as well as from our tutors, has led Literature Ireland to run the workshops again in 2022 and hopefully for many years to come.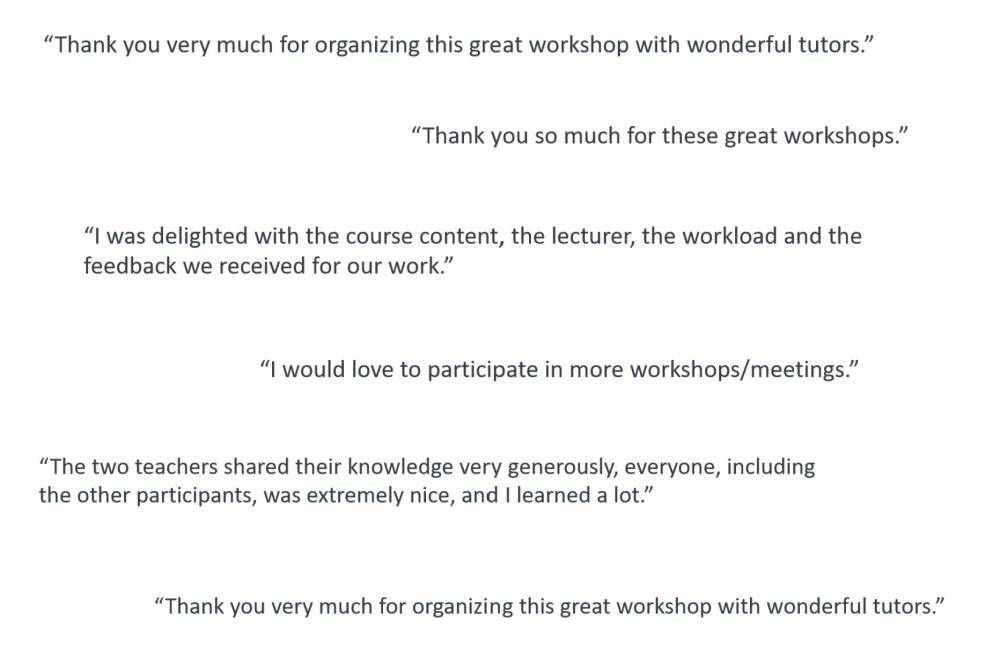 Posted to News on 24 Mar 2022.