Colm Tóibín Wins Prix de la Francophonie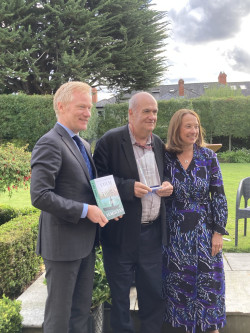 The French translation of Colm Tóibín's The Magician, published by
Éditions Grasset, has been awarded the Prix des Ambassadeurs de la
Francophonie 2023. The prize is awarded annually by ambassadors in
Ireland whose countries are involved in the Francophonie – a group of
nations in which French is a first, official, or culturally significant
language. The prize celebrates the French language and the openness
of French readers to read beyond their own rich literary culture.
Literature Ireland coordinates the prize in cooperation with the French
Embassy and awards a residency to the translator of the winning work.
This year, Anna Gibson, Colm Tóibín's translator, will be Literature
Ireland's guest in Ireland.

Tóibín was presented with his award at a ceremony in Dublin this week
hosted by Canadian Ambassador Nancy Smyth, a literature graduate herself who had studied Thomas Mann, the subject of The Magician. Anna Gibson sent a message of congratulations to Colm saying, "Of all the writers I translate, Colm Tóibín is the only one I've had the privilege to follow over such an extended period of time. It has been fascinating to watch the sheer magnitude of the work unfolding, how themes develop, deepen, change, transform, retreat, come back in infinite shades and variations."

Sinéad Mac Aodha, Director of Literature Ireland, said "A writer-translator partnership of the kind that Anna and Colm share for over thirty years now is a wonderful example of how a writer's words can be expertly carried across to a foreign language."

Joachim Schnerf, speaking for the publisher Éditions Grasset, congratulated Colm on the extraordinary publishing success that The Magician has enjoyed in the French language.
Photograph L-R: Ambassador of France to Ireland Vincent Guérend; author Colm Tóibín; Ambassador of Canada to Ireland, Nancy Smyth.
Posted to on 28 Jun 2023.